A verbal walk-through is a basic form of home inspection. It is designed to help the client get a quick summary of potential repair expenses, while viewing the property together with the inspector. Its purpose is to help both buyers and sellers get a brisk and accurate estimate of a property's condition at the time of the inspection. 
If you are considering hiring a verbal home inspection service in San Diego, we have prepared a quick run-down of what this type of inspection entails. Keep reading to learn more.
What does a basic home inspection include? 
This type of inspection doesn't require your inspector to examine every detail of the property. However, the verbal guidance your inspector provides is usually enough to inform you of any key issues the property may have and help you predict future investments. 
Things your inspector will examine during a basic walk through inspection are:
Roofing elements such as shingles/tiles, membrane, flat roofs, and flashing.

The property's structural elements and foundations.

The functioning of water and drainage piping.

How electrical service and main electrical panels work.

The condition of the furnace or boiler.

The state of central air conditioning.

How well the central heat pump works.
Once your inspector has finished examining the property, they will provide you with a verbal explanation of the home's overall state and answer any questions you may have. 
What's not included in the verbal inspection process?
While a verbal home inspection is a great option for clients who are looking to get a quick estimate of the property's state, it's worth noting that this type of inspection doesn't examine certain systems and components. 
Your inspector will not look at: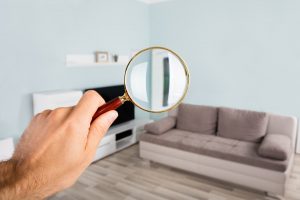 Roof elements such as chimneys, skylights, and eavestroughs

The presence of termites or UFFI (Urea Formaldehyde Foam Insulation)

Retaining walls, garages, fences, siding, paint

Windows, exterior doors, porches, decks

Driveways, walkways, paths, patio, grading

Bathroom, tiles, shower, plumbing and fixtures

Electrical, HVAC

Duct system, humidifier, radiators, exhaust flue

Smoke detectors

Basement conditions

Interior doors

Appliances and equipment
Unlike a full home inspection, a verbal inspection doesn't include a written report, nor does it include taking photos of the property. Some inspectors may require you to sign a walk-through agreement to confirm that you are aware of these facts.
How do I prepare for a verbal home inspection?
Here's what you can do to get the maximum benefits of a walk-through inspection:
Prepare a list of questions
Since you will be present during a verbal inspection, it's a good idea to prepare a list of key questions you want to ask during the inspection. This will give you additional insight into the property's value and help you get the most out of your inspection.
Make sure the property is accessible
Apart from showing up prepared, there's not much else buyers need to do. However, if you're the seller, it's in your best interest to have the inspection process go as smoothly as possible.
To facilitate the inspector's work and avoid leaving the impression that you have something to hide, provide the inspector with easy access to key points of the home. This includes decluttering the property and the perimeter around it.
Where can I get the best verbal home inspection service in San Diego?
If you are interested in hiring the most reliable verbal home inspection service to view your property in Miramar, or anywhere else in the area of San Diego, The Inspectors Company is the go-to company for you.
Our practiced InterNACHI-certified inspectors operate with both knowledge and experience to readily answer all your questions and help you reach a decision that's in your best interest. Give us a call today!