You've scheduled top-rated San Diego, CA, home inspection services, but you're not quite at peace. Preparing for the job is still a must, and one of the things you're worried about is your pets. You might think their well-being could be jeopardized during the project, or they could get in the way of your contractors.
Either way, you're looking for professional advice on how to handle your furry friends. That's exactly what you'll find in this article. Coming up are the top tips on how to prepare for your evaluation if you have cats or dogs. Read on!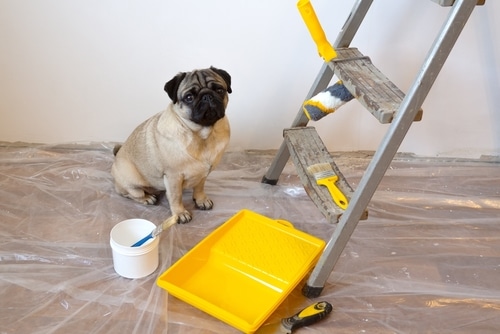 Does having a dog affect a home inspection?
Whether you want to have your apartment or house checked by professionals, preparation can make the service as smooth as possible. You mainly worry your dog may prevent contractors from working efficiently, but is that really the case?
Unfortunately, yes. Dogs can affect inspectors by distracting them from their job. Think about it – these professionals often need a quiet environment to spot various issues, such as HVAC malfunctions. Barking and growling can prevent them from spotting a problem, especially if it can only be recognized with auditory equipment.
Likewise, a pooch running around an inspector can be troublesome. The technician may have a hard time getting from one room to the next, limiting their productivity.
Avoid these issues by taking a proactive approach to your dog and inspection:
Take your four-legged friend for a run or walk before the service to make them less nervous when the contractor arrives.
Inform your provider about your dog so they know what to expect and possibly send someone who's good with dogs.
Keep them busy by feeding or playing with them until the inspection is over. Also, take them outside while the contractors are inside and vice versa.
What to do with a cat during a home inspection?
Even if you hire the best team that checks every nook and cranny, you can do them a massive favor by ensuring your cat is at a safe distance during the inspection. Here are a few helpful tips:
Monitor the cat's body language to pick up warning signs of discomfort. If your cat is meowing excessively, consider taking it someplace else. Alternatively, make your pet more comfortable by giving it its favorite toy or snack.
Hire a pet sitter if you want to avoid the hassle altogether. Another good option is to take your cat to your neighbor or friend while your home is inspected. If you do so, make sure to bring any supplies they may need to keep the pet in a good mood.
Notify the company beforehand. As previously mentioned, don't forget to tell your inspector you have a cat. They might have the best solution that keeps them and your cat happy.
Who in San Diego, CA, offers the finest home inspection services in the area?
Getting ready for your check works the same, regardless of the professional who performs the service or your location. As a result, you want to follow the above tips regarding your pets, whether you live close to Black Mountain Open Space Park or any other enchanting San Diego area.
Although most checks are similar, not every company offers the same quality. Some home inspection professionals go above and beyond to exceed your expectations, which especially rings true for The Inspectors Company.
No stone remains unturned with our experts, who follow the highest standards. We also offer a comprehensive yet simple inspection report for full transparency. Book our team and receive a thorough check!